History
Bray Bowling Green Background up to 1965
The original owner of the whole of Failte Park and much of it's environs was William Dargan http://en.wikipedia.org/wiki/William_Dargan, he owned 1-4 Florence Road.
William Dargan was arguably the most important Irish engineer of the 19th century and certainly the most important figure in railway construction. Dargan designed and built Ireland's first railway line from Dublin to Dún Laoghaire in 1833. In total he constructed over 1,300 km (800 miles) of railway to important urban centres of Ireland.
Belgian Field origins:
In 1914 the first World War broke out and in late 1914 Ireland along with other countries took in Belgian refugees (about 3,000). The number of refugees in Bray was initially 50, followed by an additional 14 in October 1914.
During the period of the war 115 (17th October 2014) refugees were supported by the Bray refugee committee. The refugees were housed in huts on the Belgian field, three houses in bray and at the Drummond Institute now St Patrick's School.
The secretary of the Bray Belgian Refugee Committee was Arthur Vivian Brew Mulhallen, son of Dr Hugh Brady Brew of bray. Arthur ran classes for the Belgian refugees and those who expressed an interest in horticulture were encouraged to sell their produce in a market set up on the present bowling green (hence Belgian Field and Belgian Market).
Barry's Field origins:
In the 1930's there was a impasse between Barry's circus and the Urban District Council in Bray as to where the circus should be located when it visited Bray. The compromise in 1930-1931 saw the council grant a lease on Failte Park to Ernest Barry and his son for use by the circus and other pop up event ***. Barry's circus used Failte Park and McFaddens circus used Craig's Coalyard (Eglington Car Park).
http://www.rte.ie/radio1/doconone/the-curious-ear-doconone-bray-roadshows.html
Monkey Business:
In 1931 a rhesus monkey gave birth to a young monkey while the circus was at Barry's Field Bray.
Erskine Childers in Bray 1965:
From the end of the second world war in 1945 the lease reverted back to Bray Council and remained so until 1965. In 1965 Erskine Childers officially opened Failte Park recreation ground (half of which contained the Bowling Green, the other half a 'putting green'

1910 image of the field taken by local photographer (pre Belgian Field)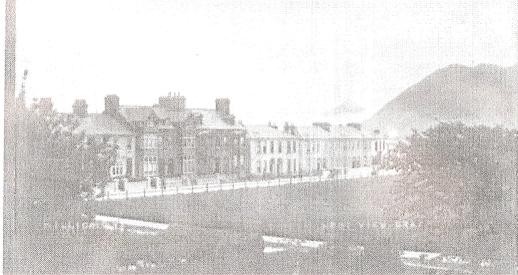 The putting Green (a man's game even back then) at Failte Park 1965, note the lampshade like lighting, where have I seen these before!